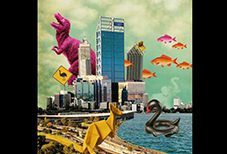 10/06/2018
The magic of a live symphony orchestra in a one-hour concert for families.
Lions, elephants, tortoises, roosters, kangaroos and more come alive during this audience favourite as the West Australian Symphony Orchestra turns Perth Concert Hall into a sumptuous zoo for this detailed tour of Saint-Saëns' Carnival of the Animals.
Featuring the celebrated puppetry of Spare Parts Puppet Theatre and poetry by Nick Enright, this performance will delight children and families with a blend of music, puppets and stop motion animation. Suitable for 5-12 year olds. All live action is projected onto a big screen above the stage.