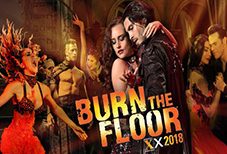 12/04/2018 - 21/04/2018
In the past two decades BURN THE FLOOR has revolutionised Ballroom style. Combining jaw-dropping choreography and ground-breaking moves, BURN THE FLOOR XX2018 brings their famous, infectious and rebellious energy to the stage every single night.
From seriously romantic Waltz, to a futuristic Foxtrot, the passion of the Tango and Paso Doble cut right through. You will revel in the emotional power of the Cha Cha, the Samba and Jive, and be left breathless by the smoking, irresistible Rumba.
This electrifying production, lights, costumes and eclectic live music will have you leaping out of the seat to join in.