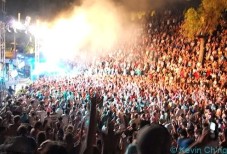 26/12/2016
Old mate's back in the bass pool. Breakfest 2016 – YOUR CREW. YOUR TUNES. YOUR DAY. It's Christmas for some, but it's BREAKFESTivus for the rest of us! Good times done well. The only thing increasing is excitement and value – not the ticket price. These are reasons Breakfest 2016 (#breakfest16) is always Perth's Best Event:APHRODITE | DJ Z-TRIP | PLUMP DJs
AC SLATER | KRAFTY KUTS | EKALI | S.P.Y
DJ SLIINK | CESQEAUX | LADY WAKS | OSKI
CUT SNAKE | WILLY JOY | REEPS ONE
Spend Boxing Day with us – ballin' in that bowl, kickin' with the HILINE stars, bouncin' with our local talent at the Beach Party Stage or diggin' deep playing Beach Volleyball in the Sandbox.