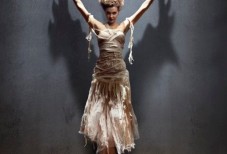 28/05/2016 - 19/06/2016
Black Swan State Theatre Company are proud to present the WA Premiere of one of the most successful plays of the modern era,Angels in America, Part I Millennium Approaches by Tony Kushner in the Heath Ledger Theatre, State Theatre Centre of WA from Saturday 28 May to Sunday 19 June 2016.
Lauded by critics and beloved by fans, this production has received nearly every theatre award worth receiving, including the Pulitzer Prize for Drama and the Tony Award for Best Play – twice. Set in 1985 New York City, this ground-breaking drama follows Prior Walter, a young gay man diagnosed with AIDS and abandoned by his lover. Desperate and alone, he is visited in a dream by an angel that brands him a prophet and tasks him with saving humanity from themselves.