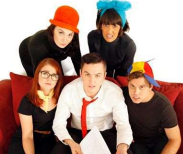 11/02/2017 - 19/02/2017
An Extraordinary Tale follows Charlie Franklin, a young man with a dream to write and produce his very own musical. He's made it to the day before opening night, but things aren't going well – he's lost most of his cast, half of the orchestra, and a Pilates studio is threatening to take over the theatre! Unfazed, the five remaining performers proceed to stumble through their final dress rehearsal, determined to bring Charlie's Extraordinary Tale of love,
community and man-eating billboards to the stage!