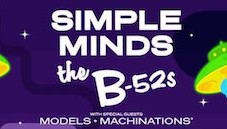 02/02/2017
Good food, fine wine and great music in magnificent locations…welcome to a day on the green!
A glittering array of International and Australian stars have performed during the past 14 years providing unforgettable musical memories. a day on the green is far more than a concert event, it is an "experience" and that is what sets it apart from other winery concerts.
Playing a series of a day on the green outdoor concerts this year are sought-after performers Simple Minds & The B-52s with special guests, Models and Machinations.