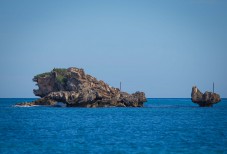 Rockingham Wild Encounters south of Perth usually shut their doors over the winter months but thankfully over the past two winters have started a new winter tour – the Three Islands Wildlife Cruise. Although winter in Perth does see colder weather and rainy days, we are blessed to also experience many crisp, sunny days devoid of rain where getting on a boat doesn't seem such an unattractive prospect. It was on one of these sunny, winter days that Rockingham Wild Encounters invited me to experience their winter wildlife tour, knowing my love of wildlife photography. Wildlife of any kind, whether in the wilderness of Africa, the snowy beaches of the Antarctic, or along the rugged reefs in the Shoalwater Island Marine Park, showcases nature in all her unique beauty and getting up close is a joyful experience.
The glass bottom boat had not even left the jetty before we were joined by a resident dolphin and her calf who delighted onlookers both aboard and onshore with her fish catching antics and her ease of closeness to all around her. The Shoalwater Islands Marine Park is home to over 260 bottlenose dolphins and it would be very unlucky to visit this beautiful part of Perth and not see them. Admittedly they are difficult creatures to photograph unless you are under water! We spent some time photographing and enjoying the dolphins before heading off in search of more wildlife. There was little wind, not a cloud in the sky and to simply enjoy the stunning surrounding scenery of sculptured limestone rocks, island coves and vast horizons of calm ocean was enjoyable in itself.
Within ten minutes we reached a collection of small islands which exhibited a vast array of sea birds, nesting, feeding, squabbling and flying all around us. These islands are important sea bird breeding sites and the Rockingham Wild Encounter staff on board provide a live running commentary on the types of birds we are seeing and the challenges they face. We learn the islands are home to over 50 seabird species, including wedge-tailed shearwaters and terns, the largest colony of pelicans, sea eagles, ospreys and one of the smallest species of penguins in the world, the 'Little Penguins'. Winter is the nesting and breeding season for the penguins so Penguin Island is understandably off limits during this tour.
When the camera shutters go quiet and we've spent enough time enjoying the birds, the boat cruises over to Seal Island, which is home to a large colony of sea lions. The Australian sea lion is one of the rarest species of sea lion in the world and are only found in Western Australia and South Australia. With the warm winter sun shining, the sea lions aren't very active today and they slumber by the water's edge and hardly notice us, even though we are fairly close to the shore. There is one huge, magnificent male who I focus my lens on, and he stretches and scratches and appears to be keeping an eye on his females while happily sharing his space with the resident pelicans. Once again the knowledgeable staff tell us all about the sea lions and their habits before the boat heads back to the jetty and we disembark for coffee at Pengos Cafe. Speaking with several tourists as we left the jetty, we all agreed it was a delightful and interesting cruise in a beautiful environment.
The beauty of this cruise is that it is only an hour long so it's simple to negotiate in a busy day of sightseeing and inexpensive at only $35 per person. You get to see and experience a variety of Western Australian wildlife while taking in the stunning scenery of the Shoalwater Islands Marine Park. Unfortunately this is only a winter tour and operates from June 2 until September 27, however Rockingham Wildlife Encounters offer a selection of tours throughout the year which you can view on their website, www.rockinghamwildencounters.com.au.
Sarah Clozza
Editor
[email protected]