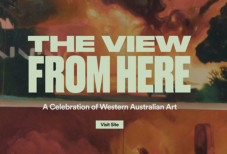 06/11/2021 - 30/11/2022
On Saturday, 6 November 2021, The Art Gallery of WA (AGWA) will host a major relaunching moment which will reveal a new and exciting multi-sensory experience for AGWA.
Launching with The View From Here, a celebration of West Australian art. It's the Gallery's largest-ever exhibition of West Australian art featuring over 230 artists, 361 artworks, with 111 new works commissioned for this moment. The all-new AGWA will also reveal a transformed building with new and exciting sensory offerings.
Some of the artists included in The View from Here are Sarah Bahbah, the WA-raised, LA-based artist with over 1 million Instagram followers; Tim Meakins, whose giant 3D-printed sculptures of weightlifters, posers and grinning weights, offer a playful interpretation of modern fitness culture and will occupy AGWA's new interior rooftop gallery; Bruno Booth's 'Adidas'-wearing cats appearing in unexpected places, the new rooftop commission by Christopher Pease, and recent works by Abdul Abdullah, Ngarralja Tommy May, Yok & Sheryo, Danielle Freakley, Tyrown Waigana and Tarryn Gill.
Every gallery space is transformed into a celebration of Western Australian art, culture and creativity.