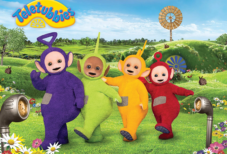 31/07/2022 - 31/12/2022
The Magical World Of Teletubbies Is Coming To Perth! Get ready for BIG HUGS – it's time to live out all your childhood dreams! A real-life Telletubbyland set is being built and you are invited to an exclusive event inside our Teletubbies Home Dome.
As the sun-baby on the horizon giggles, you'll be treated to 90-minutes of unexpected joyful Teletubbies-themed fun in our amazingly decorated venue. Sip on a Tubby Custard cocktail and nibble some Tubby Toast while a DJ spins some 90's throwbacks! If you're lucky, you may even see one of the Teletubbies!
Tickets start from $10 and this ticket includes access to 90 minutes inside the bar, a themed cocktail (or mocktail) on arrival, nostalgic fun and games, Tubby surprises and more!