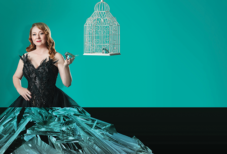 02/08/2022 - 21/08/2022
His Majesty's Theatre lights up for three weeks only from 2-21 August with Clare Watson's captivating reimagining of The Glass Menagerie – a mind-bending masterpiece that questions truth and reality. 
Winner of the New York Drama Critics' Circle award for Best American Play back in 1944. The Glass Menagerie is the timeless family drama that thrust Tennessee Williams into the international spotlight. Now in 2022 it's back, in all its haunting beauty – and it's never hit so close to home.
Amanda Wingfield only wants the best for her two children, Tom and Laura. With her socialite adolescence behind her, Amanda puts all her energies into pushing her children up the social and financial ladder from which she has fallen. Shadowed by the absence of a father, they struggle to break free from their mother's imposing ways. 
Clare Watson (York, The Torrents) exquisitely directs Tennessee Williams' most vulnerable and semi-autobiographical play. Fuelled by pity and duty, burdened by love and hate, the Wingfields are one of theatre's most iconic and heartbreakingly real families.