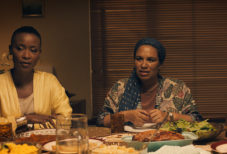 The South African Film Festival (SAFF) will present an engaging program of nine documentaries, five features and two short films when it returns from 12 to 24 May. The Festival will screen online to audiences across Australia and New Zealand with special closing night in-cinema screenings in Sydney and Melbourne.
The South African Film Festival is thrilled to present features and documentaries that explore the culture, history and politics of South Africa. The films you will see at SAFF are among the best. You will be entertained, touched and informed.
All ticket proceeds go to supporting Education without Borders programs that assist young South Africans in some of the country's most disadvantaged communities. The funds generated by this year's Festival will support vulnerable groups in South Africa, of particular importance this year given the impact of COVID-19.
The films selected for the South African Film Festival (SAFF) reflect South Africa's diverse population, rich tradition of struggle for democracy and equality, and complex political and economic reality.