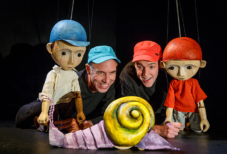 A performance like no other, Rules of Summer is an immersive, interactive, and multi-sensory puppetry work following the journey of two boys who experience the emotional journey of life, the unwritten rules of friendship, and a list of mysterious rules…
See the entire theatre space come to life and experience a sensory world of sight, taste, smell, sound and touch. What rule will you break? Will you accept or reject a tasty treat? And what consequences will await?
An active, inventive and entirely engaging world of shining torches, secret messages, shadow play, an ambitious snail, great audience interaction and a story that carries the implicit message of friendship." – Sarah McNeill, The Post
Duration: 50 mins
Perfect for 5+ but suitable for everyone!