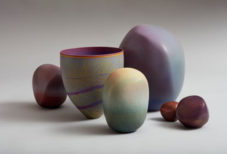 17/10/2019 - 11/11/2019
Internationally acclaimed Australian ceramic artist Pippin Drysdale's new exhibition Kimberley Series 2019 is a mesmerising collection of works that celebrate the grandeur of Australia's vast landscape. Presented by Linton & Kay Galleries, Drysdale's exhibition of exquisite marbles and vessels is assembled into installations that are quite literally a landscape in their aesthetic manifestation, reflecting the remote and grandiose geology of the Kimberley and Pilbara regions.
Renowned for her distinctive vessels that combine richly coloured surfaces with intricate finely incised lines and the organic shapes and lustres of her marbles, Drysdale evokes the unique colours, flora and fauna, and the strong connection of the traditional owners to the land in this compelling new exhibition. Each of her forms lightly touches the ground and the whole array of objects undulates into peaks and valleys over which the eyes can clamber. A Living Treasure and Master of Australian Craft, Drysdale has held over 50 solo exhibitions around Australia and internationally and has multiple works in major international public collections.