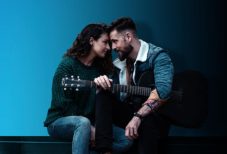 28/05/2022 - 12/06/2022
This international smash hit and eight-time Tony Award-winning musical reminds us of music's power to connect us all. With songs from the critically-acclaimed film, including the Oscar-winning song 'Falling Slowly', this spell-binding and soaring score will have you enchanted in the headiness of unexpected love.
After a sell-out 2019 season, Once, is a breathtaking co-production with Darlinghurst Theatre that will make its debut at The Regal Theatre from 28 May to 12 June. Once is the only Broadway show to have music that has won the Academy Award, Grammy Award, Olivier Award, the Drama Desk Award four times and the Tony Award eight times!
Once is a tender love story of a struggling Irish musician on the verge of giving up and a piano-playing Czech immigrant who reminds him how to dream. Featuring an outstanding ensemble of eleven performers playing instruments live on stage, Once is a modern-day musical that reminds us of the power of music to connect us all.