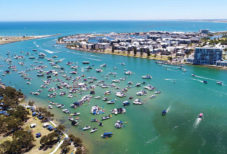 Head to Mandurah for Australia Day – it's Mandurah's longest Australia Day Weekend. Live music will set the mood, and Mandurah will be wowed with a unique laser and water show from 23 January. There will also be an official ceremony to acknowledge the winners for the Community Citizen of the Year Awards and a welcoming ceremony to new citizens who will take their oath to become Australia's newest citizens. The series of City of Mandurah events for Mandurah's longest Australia Day Weekend are:
Mandurah Alive Water and Laser Show
23 – 26 January, 8pm – 8.15pm
Watch an awe-inspiring performance on Mandurah's famous waterway. Mandurah's waterways will come alive with a special performance for 4 nights only. Lasers, lights, and fountains will be used to tell local stories. The 15-minute show will be repeated at 8pm and 8:45pm Saturday to Tuesday, January 23 to 26. Find out more.
Top of the Terrace Summer Bash
23 January, 2pm – 7pm
The annual Summer Bash is back again with pop-up bars, acoustic music and backyard cricket. The annual Top of the Terrace Summer Bash is back from 2pm-7pm along with pop-up bars and a solo acoustic stage from 2pm until late at the top of Mandurah Terrace. Friends and families can also enjoy our take on this backyard cricket favourite with mini cricket wickets set up across the Eastern Foreshore all afternoon. Find out more.
Musical Reflections in the Marina
24 January, 3pm – 8pm
Enjoy a variety of musical performances by the water. Musical Reflections in the Marina will feature a mix of genres softly carried throughout Mandurah's waterways. An afternoon blend of jazz and string instruments that feature pop rock and edgy beats. The evening will then transform into a spectacular orchestral performance for the community to enjoy. This event will connect our community through the universal language of music. Find out more.
Great Aussie BBQ
25 January, 2pm – 7pm
No Australia Day celebration is complete without a great Aussie BBQ, featuring a variety of BBQ food, amusements, carnival rides, and demonstrations by pro skaters at our world-class skate park. The afternoon will be full of great food and fun with an assortment of BBQ food options available, carnival rides, amusements and more. The world-class skate park will showcase demonstrations by pro skaters, community jams sessions, clinics and plenty of prize giveaways. Find out more.
Australia Day Citizenship Ceremony
26 January, 8.30am – 12pm
The City of Mandurah's Australia Day celebrations for new citizens, nominees of the Citizen of the Year award, and the general public. The ceremony is invite-only due to COVID-19 restrictions, however it will be live streamed to a big screen in Mandjar Square for all to enjoy. Mandjar Square will come alive with music by the Mandurah Concert Band and will set the mood ahead of the ceremony beginning. Find out more.
Mandurah Celebrates Australia Day – Eastern Foreshore
26 January, 2pm – 8pm
A day of family-friendly activities is planned along the Eastern Foreshore including live music on the Celebrate Stage featuring local acoustic artists, along with outdoor movies and much more!
Mandurah Celebrates Australia Day – Lido Beach
26 January, 2pm – 8pm
A line-up of bands will play all afternoon in the Mandurah Ocean Marina at Lido Beach. Don't miss the chance to get hands-on and help create a one-time-only sand mandala that will come to life throughout the day. Find out more.
Aussie Motor Muster
23 January, 9am – 12pm
An Australian car show for all to enjoy. Reflecting on Australia's unique history of motor vehicles, this car display will showcase some great Australian vehicles throughout history with vintage vehicles through to modern marvels. Find out more.
Australia Day Cultural Tours
23 & 24 January, 11am – 12pm
This Australia Day weekend take a guided walking tour in Mandurah and discover the history of Mandurah and a trip down memory lane. The informative walk will showcase the past and present featuring Mandurah's indigenous history, places of interest, pioneer families, their homes, and their stories. Tour starts at 11am leaving from the Mandurah Community Museum. Places are limited click the following links to book on 23 January or 24 January.
Reflect. Respect. Celebrate – We're all part of the story.
There are NO fireworks in Mandurah on Australia Day. Note: Please leave your pets at home as dogs are now prohibited at City events due to large crowd numbers.