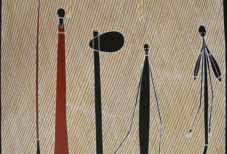 03/06/2022 - 26/06/2022
For the first time in over a decade, West Australian audiences can view an array of highly sought artworks from Bula'bula Art Centre in Ramingining, Central Arnhem Land (NT) located 4,400kms north east of Perth.
"This will be the first time in over a decade that pieces from Ramingining artists will be available on the west coast of Australia," says Anna Kanaris, Director of South Fremantle based Artitja Fine Art Gallery. To celebrate this new partnership with Bula'bula Art Centre, the gallery will present artworks from 15 artists of the Central Arnhem area depicting the unique Ramingining style. Alongside this exciting debut will be a selection of new pieces by significant Tiwi Island artists, marking Artitja's fifth exhibition with the Munupi Art Centre based on Melville Island.