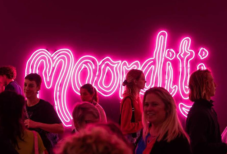 19/08/2021 - 20/01/2022
Surprising encounters, dance floor bangers, lavish cocktails and mind-bending performances. Fremantle Arts Centre's new art party Leave the Lights On gives revellers the chance to dance, drink and delve into art like never before.
With three editions scheduled – Thursday 19 August, Thursday 4 November and Thursday 20 January from 6pm till late – Leave the Lights On invites you to get your up-late culture fix with a stellar roster of local acts, from Bollywood DJs to spoken word poets and all-female percussionists.
Fremantle Arts Centre Artistic Director Anna Reece commented, "Change is afoot here at Fremantle Arts Centre as we explore new ways we can offer extraordinary art experiences."
"We are so excited to reveal this nocturnal art series, an entirely new concept for the Arts Centre which takes the standard gallery experience and flips it on its head."
"Illuminating FAC across three specially curated evenings, Leave the Lights On immerses visitors in hypnotic performances, music and art. We'll leave the lights on, so you can let your hair down."
Gather round the fire pit in the heart of winter for our first edition on Thursday 19 August: Humanity, Mortality and the Natural World, coinciding with our winter exhibitions by Jacobus Capone and Stanislava Pinchuk. Dr Cass Lynch, author, poet, artist and academic offers reflections on space and time from her unique Nyoongar perspective, sounds from composer and sound designer Rachael Dease echo through the galleries and conversation between artist Jacobus Capone and Margaret Moore offer insight into the exhibition Jacobus Capone: Beating Heart.