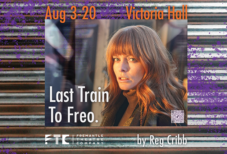 03/08/2022 - 20/08/2022
Fremantle Theatre Company is proud to present Last Train to Freo, the 20-year revival of the Patrick White Award winning play, restaged for the first time in Fremantle and directed by Perth's own champion of the theatre Reg Cribb.
When two rough-cut gems fresh from Perth's prison system board the train in Midland, the stage is set for a truly wild ride south. Cutting sharply through every sector of WA society – not even these wayward misfits can predict where they will end up.
Cribb was inspired to write the play after he witnessed two thugs harassing an attractive woman on a Midland to Freo train, and what he has written in response is an inspired, richly layered, dramatic story with several themes intertwined and unravelling as one.
The play is a ticking time-bomb, winding-up-and-up energetically, as the train approaches its final destination: Fremantle. At each new stop, more is revealed about the passengers and the tensions that unite them. And along the way, the work tears open some key discourses that rippled through the Perth social climate at that time, and quite unsurprisingly, now.