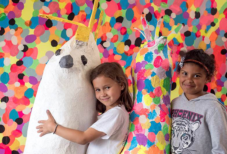 20/11/2021 - 23/01/2022
From 20 November, Fremantle Arts Centre presents Hundreds & Thousands: an immersive kids' colour adventure, bringing the magic of colour to life with dazzling interactive artworks, highly sensory installations and educational experiences that invite curiosity, discovery and play.
Meandering through a spectrum of colour-themed spaces, audiences will encounter soft sculptures to touch, kaleidoscopic wall installations and twinkling fields of colourful lights— designed to spark little imaginations while expanding boundaries of perception and understanding.
Hundreds & Thousands brings together more than 20 artists of national and international renown including Sydney Ball, Brian McKay, Laurel Nannup, Ngamuru Bidu, Giles Hohnen, Tarryn Gill, Jeremy Kirwan-Ward, Rohin Kickett, Penny Coss, and Darren Siwes.
Among the exhibition are nine newly commissioned works by artists including Phil Gamblen, Rosie Deacon, Angela Ferolla, Sohan Ariel Hayes and Rachel Riggs, including surprising participatory works and unique colour stories that engage the senses in unexpected ways.
Bringing together works of magnificent scale and imagination, Hundreds & Thousands invites children to marvel at the joys of colour, to explore the intimate relationship between colour and emotion, and to reflect on the colourful moments in their own daily lives.