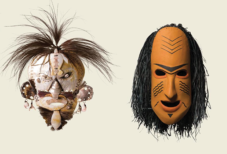 04/06/2022 - 21/08/2022
Experience special insight into the role of masks in Torres Strait Islander culture, the reaction of the early maritime explorers to this cultural practice, and the rituals that brought these amazing masks to life in this incredible traveling exhibition.
Evolution: Torres Strait Masks showcases the rich history of mask making in the Torres Strait Islands (Zenadh Kes), located between Queensland's Cape York Peninsula and Papua New Guinea.
WA Maritime Museum is proud to present this fascinating exhibition which takes visitors on a journey from time immemorial when masks were used in ceremonial rituals throughout the 274 islands that spread across some 48,000 square kilometres.
Gain special insight into this deeply spiritual practice of mask making revived by eight proud contemporary artists and master craftsmen who want to share this ancient culture and connect us to their spiritual forefathers.
Evolution is a traveling exhibition from the National Museum of Australia developed in partnership with the Gab Titui Cultural Centre on Waiben (Thursday Island) and assisted by the Australian Government's Visions of Australia program.