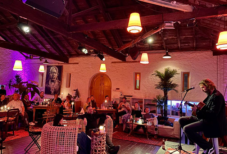 01/07/2022 - 31/08/2022
Joanna's Candlelit Soirées are back at Kidogo Arthouse!
This absolutely magical series of dinners hosted by Kidogo Arthouse during winter, feature unique performances by some of Perth's finest musicians. Be serenaded and entertained as you enjoy a warm candlelit dinner in the glorious 19th century limestone gallery. The soireés, provide the perfect atmosphere for musicians to freely express themselves and create memorable concerts that are unique to Kidogo Arthouse, Fremantle.
The magnificent acoustics and intimate ambience of the space, coupled with the delightful menu makes for a truly remarkable experience that you do not want to miss out on!