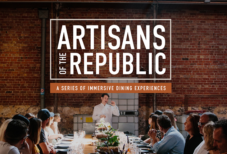 01/09/2021 - 03/11/2021
This spring, Republic of Fremantle will open the distillery doors and collaborate with some of Western Australia's most distinguished producers for their new event series – Artisans of The Republic.
Two months of immersive dining sessions, each celebrating WA's finest craftspeople. The events will hero local artisans passionate about creating their produce from scratch and sharing only the most premium ingredients with palettes around the state.
With the likes of La Delizia Latticini, Sue Lewis, Futari Wagyu, The Mushroom Guys, Local Goat and Leeuwin Coast joining the line-up, the carefully curated table has been set for some truly memorable dining experiences.
Guests can expect a food-driven journey from each artisan that'll allow them to immerse themselves in the produce, its origins, and its journey to the place. Naturally, each course will be paired with a cocktail heroing Republic of Fremantle's Signature Vodka, Aromatic or Full-Bodied Gins.
Tickets can be purchased via www.republicoffremantle.com/pages/artisans-of-the-republic