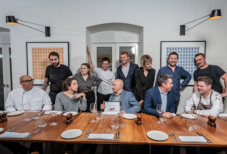 07/10/2021 - 28/10/2021
 They might be fierce hospitality competitors, but when it comes to helping West Aussie kids facing cancer, these gastronomic luminaries are happy to take a seat at the same table. 
You can join them in raising funds for much loved-children's cancer charity Camp Quality by participating in the return of the Art of Dining Supper Club Series. 
The talented food and wine teams at Crown's Bistro Guillaume, Balthazar, Bib & Tucker, Emily Taylor, The State Treasury Buildings and Shadow Wine Bar in Perth are among the first to get behind the unique fundraiser which will roll out across Australia in the coming months. 
Supper Club restaurants host a one-off dining experience inspired by fresh local produce and designed and presented by their incredible chefs and knowledgeable sommeliers. 
Foodies, wine aficionados and those who simply love supporting a good cause purchase tickets to the bespoke gourmet events with proceeds going to Camp Quality's vital services and programs for kids impacted by cancer.