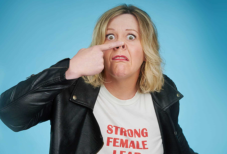 02/10/2021 - 24/10/2021
Political powerhouse Van Badham (Banging Denmark, The Guardian) delivers an internet fast, brilliantly sharp adaptation of George Orwell's response to authoritarian government in Animal Farm in the Heath Ledger Theatre from 2 to 24 October.
This is Orwell not like you've seen before, but a contemporary styled version. The characters and plot adhere to his seminal allegory of anti-Stalinist satire, but with an infusion of modern technology and politics.
"Make animal farm great!" is the mantra that carries on through the production, making it impossible to miss the connection to current world issues. Van Badham's version contemporises the story that is about the brutality of power in today's political landscape of fake news and borrows from Trump cues.