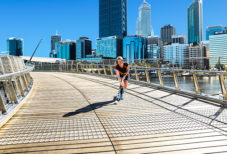 23/04/2022 - 30/04/2022
Created by the Confederation of Australian Sport in 1987, the Australian Masters Games is a week-long festival of sport that brings together weekend warriors from around Australia, and the world, to enjoy an extensive sport and social program in an exciting holiday destination. The 2021 Australian Masters Games will take place from 23-30 April 2022, in Perth, Western Australia.
With around 50 sports on offer, including dragon boat, lawn bowls, basketball and athletics, and no qualification criteria aside from meeting the minimum age requirement (which for most sports is 30 years), there really is something for everyone. You can also enter in multiple sports, so the sky is the limit for participants at this year's Games.